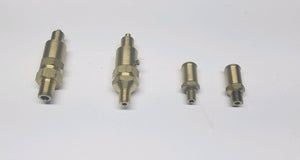 After a boiler has been engineered, built and tested for a given operating pressure there is only one reliable way to prevent operation of the boiler above this design pressure.  This is a safety valve.  The safety valve should be sized so that a single valve can handle the maximum steam production rate of the boiler and once open prevent boiler pressure to continue to rise.  Standard operating procedure for the last century has been to install two safety valves on the boiler, one set 3-5 lbs below the design pressure and one valve set at the design pressure.
Our valves are both beautiful and reliable...they fulfill the requirements for almost any model boiler.  
The 1st valve listed below is a true adjustable differential pop valve.  The differential is adjured through the differential rings lock screw hole, from 3 PSI to whatever the operator desires.  The pressure of the valve can be adjusted from 40 to 200 PSI.  
The other valves listed are adjustable for release pressure and have a "pop" action:  The pressure differential is not adjustable on these valves.  If the valves are operated above their nominal pressure, the set-reset differential increases.  If operated at lower pressure, the differential decreases to the point of disappearing about 10-15% below nominal pressure.  
 Size
Application

5/16-27 MTP,  2 1/4" Height Adjustable from 40-200 PSI

1 1/2" and larger scale boilers operating between 40 & 200 PSI

1/8 NPT, 2 1/4" Height, 100 PSI

Boilers up to 1 1/2" scale operating at 100 PSI.  

1/4-40 MTP, 1" Height, 40 PSI

5/16-27 MTP, 1" Height, 40 PSI

Small table top boilers operating around 40 PSI (such as Stuart Boilers)